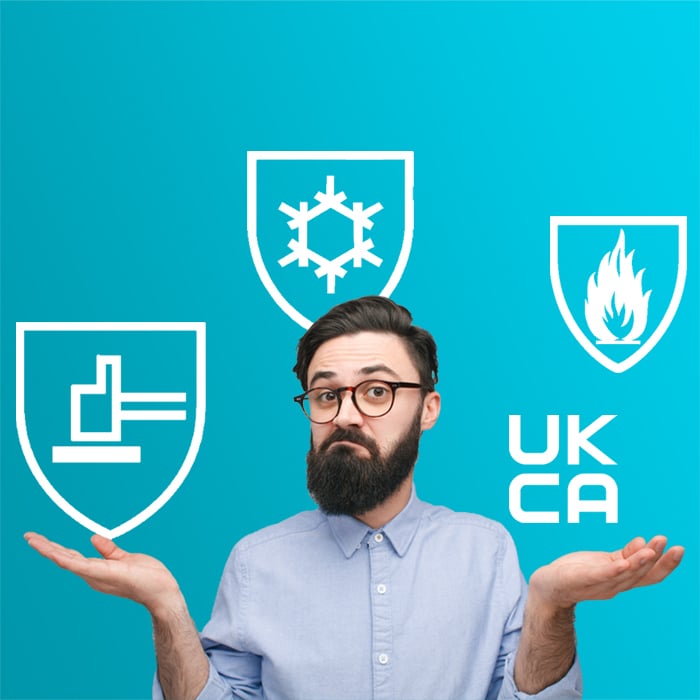 Safety gloves – what do I need to know?
Posted 20 Sep 2022
---
Wearing the right safety gloves is crucial to keep hands protected in the workplace, but what makes safety gloves safe, and what do you need to know before you buy? Clive Grinnell gives us his ultimate guide…
Safety glove standards
Safety gloves are commonly tested against the standard EN 388:2016+A1:2018, which guarantees the wearer the stated level of protection against mechanical risks. All cut-resistant safety gloves are required to be assessed against this standard.
EN 388 covers the following:
Abrasion resistance (rated 1-4)
Coupe blade cut test (rated 1-5)
Tear resistance (rated 1-4)
Puncture resistance (rated 1-4)
Single impact cut test (rated A to F)
Impact resistance (P)
Find out more about the tests used to assess safety gloves.
Understanding safety glove markings
Genuine safety gloves tested to EN 388 standard will be clearly marked with something that looks like this: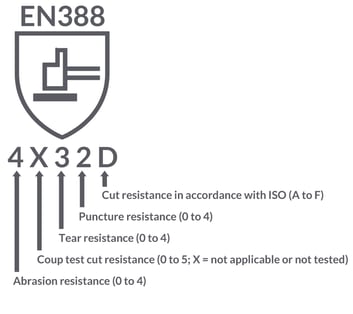 The numbers and letters printed underneath the shield mark show the wearer the level of protection the glove offered in the tests listed above. The higher the numbers, the better a glove has performed under testing.
Other safety glove markings

CE mark – This assures the wearer that safety gloves comply with European legislation, meaning that information is available on the supplier, glove designation, sizing, applicable glove standards and ratings, limitations, any known allergies, care and cleaning instructions, shelf life if under 12 months from manufacture, relevant accessories, and special transport packaging if required.

For goods sold within Great Britain (England, Wales and Scotland), the CE mark is being replaced by a new product marking: UKCA (UK Conformity Assessment). From 1st January 2023 most products previously subject to CE marking will be required to display the new UKCA marking.
EN 511 – This symbol and corresponding three-digit code indicates that a safety glove has been tested to the standard EN 511:2006 for protection against cold risks.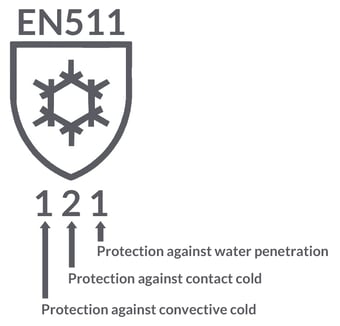 EN 407 – This symbol and corresponding six-digit code indicates that a safety glove has been tested to the standard EN 407:2004 for thermal resistance.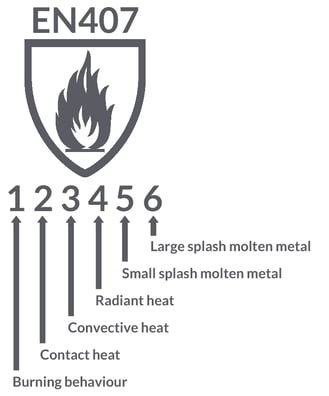 Safety glove coatings
Safety gloves are made with different coatings, which offer different levels of flexibility, grip and protection against hazards.
These are:
| | |
| --- | --- |
| Flat nitrile | Gloves with a flat nitrile coating are tough and durable, with good resistance to puncture and abrasion, as well as to oils, grease and liquids. However, they offer the wearer less dexterity than their counterparts, so are not suitable for handling small items or performing intricate assemblies. |
| Micropore foam nitrile | A foam nitrile coating acts like a sponge, offering superb grip in wet and oily conditions, as well as high levels of abrasion, puncture and tear resistance. It is also breathable, which helps to reduce the likelihood of sweaty hands. The downside of foam nitrile is that the open pore structure of the coating means it can easily become saturated if exposed to large amounts of liquid and heavy oils. |
| Polyurethane (PU) | The soft and stretchy properties of polyurethane (PU) make it an ideal coating for cut resistant gloves, as it provides good durability and puncture resistance without being bulky enough to impact flexibility of movement. Gloves with a PU coating often have just the finger or palm area dipped to allow the skin on the wearer's hands to breathe through the back of the glove and reduce sweating. PU coated gloves are a good choice for general sharp handling and assembly applications, but a high penetration level of the coating into the knit liner can cause skin sensitivity in some people. |
| Latex | Compared to other glove coatings, latex offers the wearer higher elasticity and grip, while being very durable. Crinkle latex, in particular, offers good abrasion and puncture resistance. The downside of latex coated gloves is that latex contains a protein that can cause allergic reactions in some people. |
Safety glove care
To keep safety gloves performing at their best, it is vital to take good care of them, regularly inspecting them for signs of damage, and keeping them clean.
Inspection
Even the smallest hole in a safety glove may allow a hazardous chemical to reach the wearer's skin, while worn-out gloves won't offer the same level of protection against workplace hazards.
Because of this, safety gloves should be inspected daily prior to wear, to ensure they are fit for purpose. This process should begin as soon as they are removed from their packaging, in case of manufacturing fault or damage sustained in transit.
Look closely for any rips, tears or thinning of the material that may suggest the glove is worn out and no longer provides the required level of protection. Remove any loose threads that could get caught in machinery. Turn the glove inside out and examine it for traces of chemicals, putty, cement and other substances that – if in contact with the skin for long periods of time – could cause severe discomfort and even injury.
Removal
After wear, wipe or rinse gloves to remove any chemicals, before taking them off and placing them carefully into a suitable container where they can be safely stored until the next day's work.
Cleaning
Reusable safety gloves should be regularly cleaned by turning them inside out and rinsing under tepid warm water, before being left to dry naturally.
It is important that no chemicals are used to wash the gloves, as they may degrade the protective coating and lead to reduced performance.
All safety gloves should be reinspected after being washed, to ensure their protective coating remains intact.
Safety glove Q&A
When choosing the best safety gloves for your business, there are lots of factors you'll need to consider. Here are answers to some of the most frequently asked questions:
What are safety gloves?
Put simply, safety gloves are gloves that protect your hands, fingers, thumbs and wrists against hazards in the workplace, including sharp objects, chemicals, and the other elements.
Are safety gloves important?
Yes! Injuries to the hands and wrists still account for almost a quarter of all non-fatal injuries in UK workplaces. Ensuring your employees wear the correct safety gloves with the right type of protection for their working environment and the types of materials they handle will go a long way to avoiding these types of injuries, and to protecting your business's reputation, productivity and finances against the negative impact of workplace injuries.
Do I need to wear safety gloves?
Wearing safety gloves is always a good idea if you use your hands to perform manual work. Wearing the right pair of safety gloves can help to stop your hands from drying out, increase your grip, and protect your hands against sharp objects and harsh chemicals that can cause illness or injury.
What does the code on the back of my safety glove mean?
Safety gloves tested to the standards EN 388, EN 511 and EN 407 all display associated ratings codes, which are either a series of digits, or a combination of letters and numbers.
Find out more about safety glove markings.
How long should work gloves last?
There is no universal rule as to how long safety gloves should last, or how often they should be replaced. In some applications, gloves must be kept clean so as not to contaminate environments. For most logistics roles, gloves should be replaced when they have holes, or when the protective coating on them is worn.
Do women need different safety gloves to men?
It is not necessary for women to buy different safety gloves to men, but both men and women should wear the correct glove size for their hands. Fortunately, safety gloves are manufactured in a wide range of sizes, with the smaller sizes often more suitable for women's hands, which tend to be smaller than men's.
How do I know if I have the right work gloves?
Identifying the best specification of safety glove to meet the demands of a specific task and work environment is only half of the equation. As with all workwear and PPE, safety gloves should be trialled in a live work environment by those who will be required to wear them, who are the only people really qualified to speak to their suitability for the job. What's more, involving your employees in the decision-making process will help ensure buy-in to your hand protection safety initiatives.
Find out more about trialling safety gloves from the iSB Group range.
What cut resistant safety gloves should I choose?
A good safety workwear and PPE supplier will be able to give advice on the most suitable safety gloves for certain jobs, but the final choice ultimately lies with you as the employer. We recommend a thorough risk assessment be carried out for each department prior to selecting a specific glove most appropriate for use in that environment.
Where can I buy sustainable safety gloves?
Safety gloves tend to be a high usage, high wastage product, but there are options out there for businesses looking to reduce their negative impact on the environment. At iSB Group, we stock safety gloves made from recycled materials and carbon neutral work gloves, and we can also advise on other ways to reduce glove usage and waste in your business.
Safety glove testing
The six tests carried out under the safety standard EN 388 for safety gloves are:
Abrasion test
A sample cut from the palm of the glove is fitted to a rubbing head of fixed size and weight, which is moved in an elliptical motion over a table covered with abrasion paper. The performance of the glove is rated according to how many cycles are required to make a hole in the material. A total of four samples from the same glove are tested in this way, with the lowest result determining the final rating given.
Coupe test
A rotating circular blade is moved horizontally backwards and forwards across a sample of the glove fabric with a fixed force of five newtons applied from above. The performance of the glove is rated according to how many cycles are required to break through the sample material, as well as the degree of wear and tear on the blade afterwards.
Tear test
A sample from the palm of the glove is clamped in a standard tensile strength testing machine. The jaws of the machine are then moved apart at a speed of 100mm per minute, and the force required to tear the sample measured. This test is conducted on a total of four samples from the glove material, with the lowest result determining the rating achieved. Performance levels range from 1 (resistance of peak force between 10N and 25N) to 4 (tear strength of 70N or greater). For gloves made from multiple, unbonded layers of fabric, each layer is tested individually, and the overall rating given corresponds to the lowest result of the most tear-resistant of the individual fabrics.
Puncture test
A compression test machine pushes a rounded stylus of 50mm (equivalent to a standard roofing nail) into a sample cut from the palm of the glove at a speed of 100mm per minute, and the maximum resistance force is recorded. Performance levels range from 1 (puncture resistance force of between 20N and 60N) to 4 (measured resistance of at least 150N). Again, the rating given is decided by the lowest result across four tests.
Cut test
Any sample fabric tested under the coupe test that blunts the blade is marked with an X and further tested using the EN ISO 13997 cut test to ensure a more accurate assessment of its cut protection capability. A sharp-edged blade is dragged over the sample fabric once, and the minimum force required to cut the material at a thickness of 20mm is measured.
Find out more about the EN ISO 13997 standard for cut protection safety gloves, and what it means for you.
Impact test
Safety gloves bearing the letter P have successfully demonstrated that they reduce the effect of impact on the hand, when tested using the EN 13594 impact standard. A 2.5kg flat-faced striker of 80mm in diameter is struck against the area of the glove covering the four connected knuckle joints, generating five joules of energy. To claim impact protection, the gloves must not transmit a force exceeding 7kN.
For further information and advice on your specific safety glove requirements, why not book a glove audit for your business.