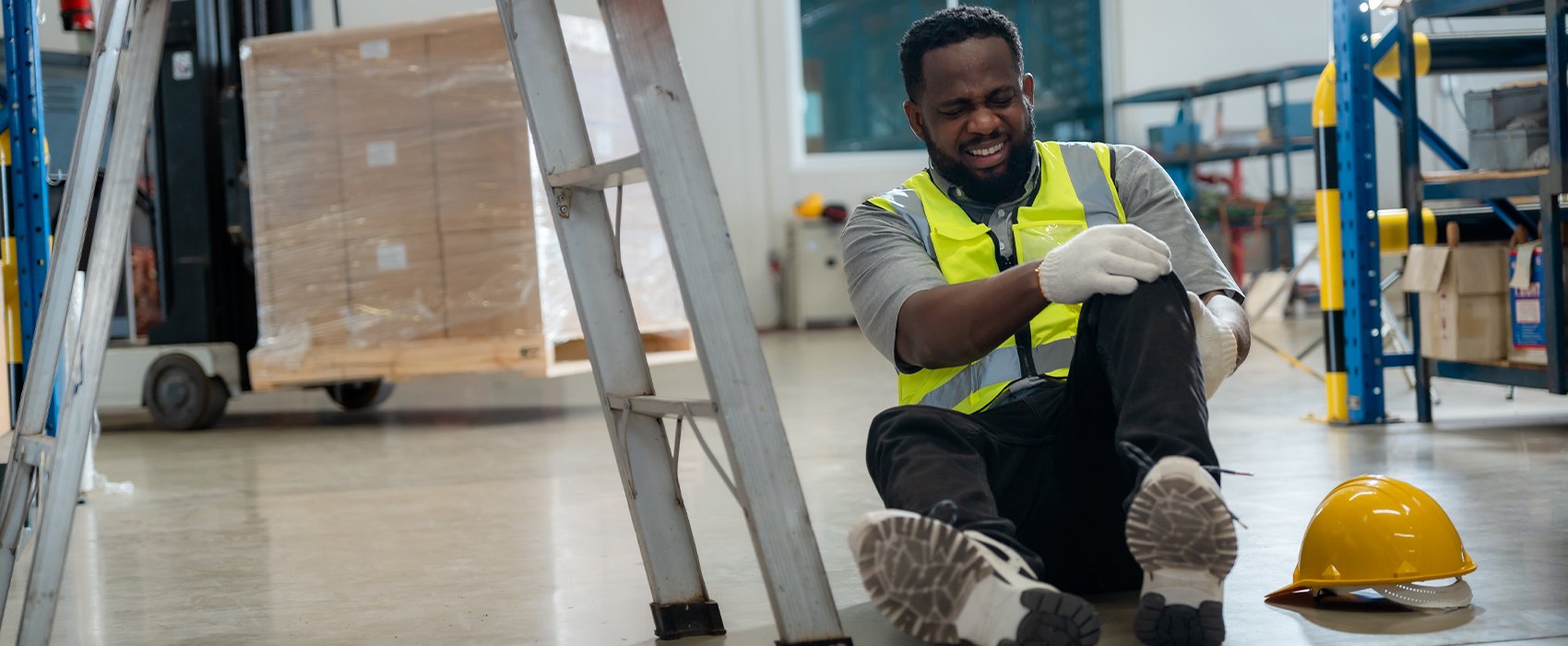 Posted 9 Feb 2023
As an employer, you can do everything in your power to avoid one, but an accident at work still happens. In this blog, we cover what to do next…
Accident at work: The statistics
In general, workplaces are getting safer. Enhanced safety protocols, increased general knowledge of risks and better performing PPE are combining in a reduction in the number of deaths due to workplace injuries each year.

However, accidents still happen. In 2021/22, 123 workers in the UK were killed in an accident at work. In addition, 80 members of the public died as the result of a work-related accident, and there were a further reported 565,000 non-fatal injuries to workers.
Accident at work: Employer responsibilities
Employers have a responsibility to do all they can to keep people safe on their work premises and from the impact of their work activities. Employees, contractors, visitors, members of the public and others are also responsible for their own safety and that of others around them – but primary responsibility for their health, safety and wellbeing remains with the employer.

Read more on this topic: Who is responsible for health and safety in the workplace?
Find out more about employer responsibilities for health and safety.

However, health and safety protocols, risk assessments, safety signage, PPE and employee training sadly cannot always prevent an accident from occurring. Employers can do everything possible to avoid an accident at work happening, and yet it still does.

Why a near miss is an accident waiting to happen: Near miss reporting – why it matters.

In the event an accident does happen, employers have a duty of care to the affected person as well as to their wider team. Immediate responsibilities include:

#1 Administering first aid
Administering the right first aid as soon as possible after an accident has happened could mean the difference between life and death, so it is vital that employers are properly prepared. Workplaces should be stocked with the correct first aid kit to deal with any hazards identified in a risk assessment as well as general emergency situations. First aid kits should be checked regularly and restocked as necessary as items expire or are used.

#2 Calling the emergency services
Depending on how serious the accident at work, it may require an ambulance, the police, or both. Employers should call the emergency services as soon as possible, even if the injuries sustained seem minor. It is an employer's duty to ensure anyone injured following an accident at work receives prompt medical attention.

#3 Recording the incident
Employers should make a record of the date, time and location of any accident at work, noting the details of what happened, any injuries sustained, and the name and contact information of any witnesses. It may also be helpful to take photographs of the scene and any injuries, to avoid the need to rely on people's memories should they be required to recall the incident for insurance purposes or in the event of a claim for compensation.

#4 Notifying the relevant parties, including the authorities if necessary
Employers are responsible for ensuring everyone who needs to is informed about the accident at work. This includes the supervisor of any injured employee, HR, and the person responsible for health and safety in the workplace. Certain types of accidents and injuries must also be reported under the Reporting of Injuries, Diseases and Dangerous Occurrences Regulations 2013 (RIDDOR).
Find out more: When does a workplace incident fall under RIDDOR?

Additional employer responsibilities after an accident at work
Depending on the nature of the accident and the injuries sustained, there may also be additional HR duties to perform after an accident at work. These include supporting the injured party in their recovery with time off work and sick pay, and adjustment of the wider team's work to manage that person's temporary absence while they recover.

In the weeks and months following any accident at work, it will also be important to conduct a thorough investigation into the factors leading to the accident and to take any necessary action to prevent a repeat.

At iSB Group, we can help organisations to evaluate how their workplace hazards combine with other factors to influence the PPE and workplace equipment they should provide to their employees. To find out more, download our warehouse risk assessment checklist or visit our online store to view the latest health and safety products.