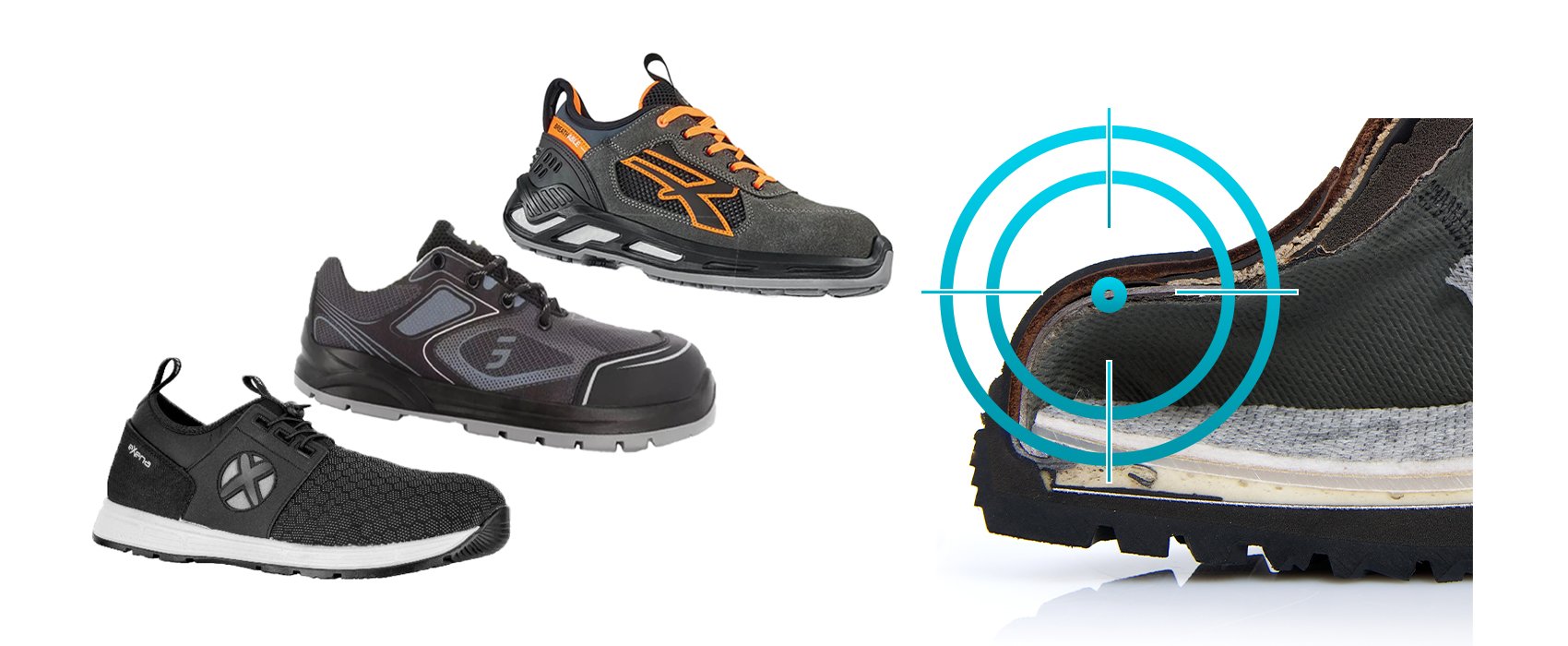 Posted 30 Dec 2022
When it comes to safety trainers, it's easy to stick with what you know, but are steel toe cap trainers always the best, or should you go for aluminium or composite instead? Nick Grinnell investigates the options…

The tried-and-tested traditional steel toe cap vs newer innovations like aluminium or composite – the debate continues. In fact, our earlier article on this very subject remains one of the most popular posts on our website.
So, which make for the better safety trainers – steel toe caps, aluminium toe caps, or composite toe caps?

The answer? No option is 'better' than the others, although there will be one that is more suitable for certain types of roles and work environments. Ultimately, though, it comes down to wearer choice and preference.

So, feel free to stick with what you know best, or to choose to try something different – just make sure you know what you're choosing and why.

With this in mind, we've put together a quick guide to the main pros and cons of each type of safety trainer toe cap.

Steel vs aluminium vs composite: An honest review
The below guide will help you understand your options when choosing safety trainers. We've included the benefits and drawbacks of each type of toe cap to help you make an informed decision on the best choice for your needs.


Steel toe cap trainers
Pros: Often cheaper, excellent protection
Cons: Heavy, may be uncomfortable, conduct heat and cold

Made from heavy duty steel, steel toe cap trainers offer excellent protection from falling objects and crushing. The traditional choice, steel toe cap trainers tend to be less expensive than their alternatives but are much heavier – between 30% and 50% weightier than aluminium and composite. They also tend to have a smaller toe box, which can be uncomfortable for some people, and will set off metal detectors, making them less ideal for those required to go in and out of secure areas for work. Steel conducts and retains both heat and cold, which may cause discomfort for those working in hot or cold temperatures.

Aluminium toe cap trainers
Pros: Lightweight, thinner than steel but just as strong
Cons: More expensive, conduct heat and cold

Increasingly popular, aluminium toe caps are up to 50% lighter than steel and yet just as strong. A thinner and more versatile material, choosing aluminium over steel also allows more room in the toe box for the wearer's feet, resulting in improved comfort. However, safety trainers with aluminium toe caps will still set off metal detectors and react to different temperature environments, which is something to consider. They can also be a little more expensive to purchase than their steel toe cap equivalents.

Composite toe cap trainers
Pros: Lightweight, non-metal
Cons: Makes for a wider toe cap, which can affect the aesthetics of the trainer design

A lightweight, versatile alternative to aluminium and steel toe caps, composite toe caps are made from materials including Kevlar, carbon fibre, plastic or fibreglass. As well as being around 30% lighter than steel toe caps, composite toe caps may be a more suitable option for those required to enter and exit secure areas or working in hot or cold environments. The only downside of composite toe caps is that they can be wider than metal equivalents, which can lead to a bulkier-looking trainer. However, with safety a more important consideration than aesthetics, there is nothing to fault them.
One more thing to consider…
If stressed beyond what they are designed to withstand, steel toe caps will bend, while composite toe caps could shatter. Both would result in injury to the foot, but a shattered toe cap may allow for the foot to be removed from the trainer for treatment more easily than a misshapen one.


Metal toe caps vs composite: Conclusion
Under normal working conditions, aluminium, composite and steel toe caps all provide similar levels of protection against impacts and crushing.

While composite toe cap trainers may be more suitable for some environments, the decision of which type to choose ultimately comes down to wearer preference.

As with all safety workwear and PPE, safety trainers should be purchased from a reputable supplier that can evidence good quality materials and manufacturing processes throughout its supply chain. Read our recommendations of top questions to ask your PPE supplier.
Visit our online store here to view our full range of Safety Trainers.