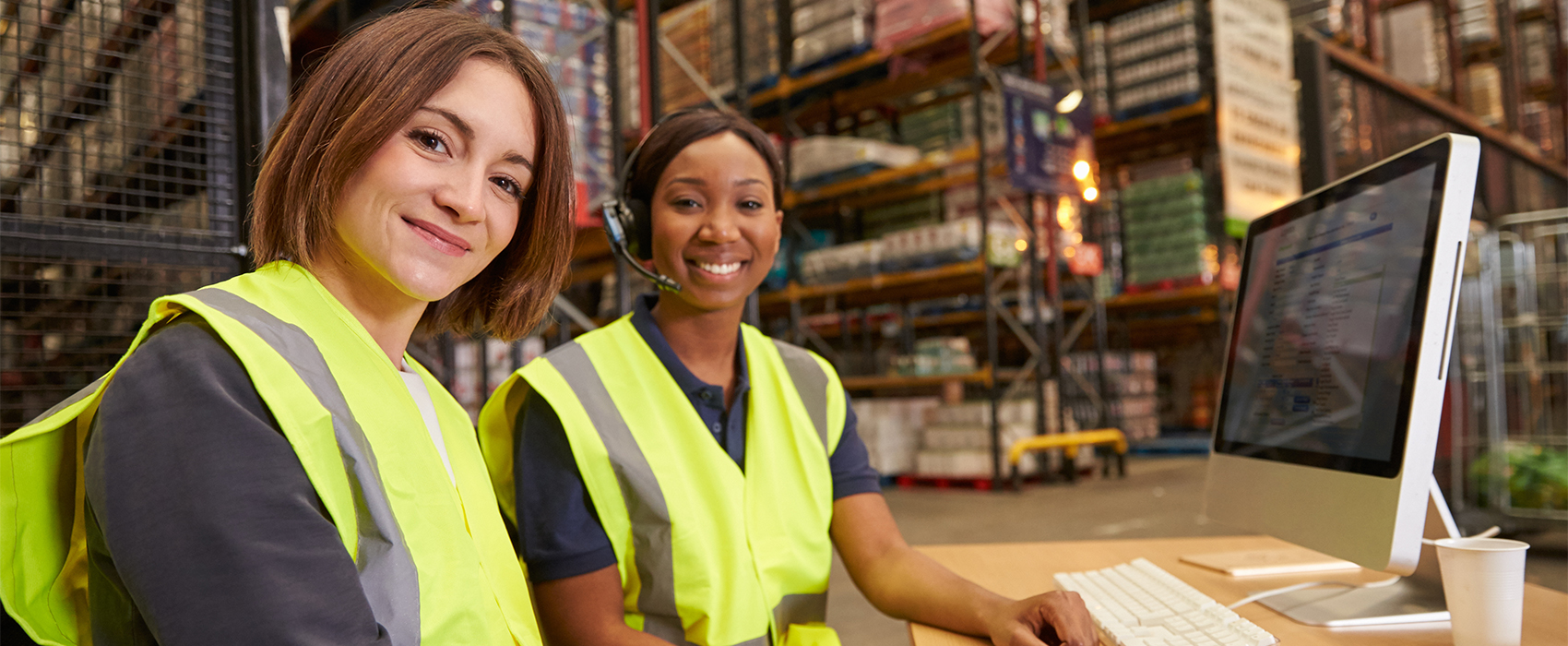 Posted 2 May 2023
Women make up more than 50% of the population, and yet – despite growing numbers of female warehouse workers and HGV drivers – they are still underrepresented in the logistics and transport sector.

Why is this, and what can we as a sector do to encourage more women into logistics roles to improve diversity, reduce the skills gap, and boost the talent pipeline?

In this blog, we look at the current picture for women in UK logistics and offer our suggestions for how the industry can improve so its careers appeal to and are open to both sexes equally.

Women in logistics: The statistics
Logistics has traditionally been a male-dominated industry, but recent years have seen growing numbers of women choosing to work in warehousing and transport roles, attracted by the fast-paced, dynamic environment and the opportunity to join a sector that is always innovating and adapting.

But, despite this, there remains more work to be done; of the more than 1.5 million people working in UK logistics, less than a quarter are women. Most of these work in warehousing, while the proportion of female truckers and HGV drivers languishes at less than 1%.

Initiatives such as the EU's Wil Power project and the CILT's Women in Logistics forum are working to attract more women into transport and logistics and support them to progress to leadership roles. Collectively, businesses within the industry have a responsibility to work with the likes of these organisations to better support women working in logistics, remove the barriers to their recruitment and retention, and improve their experience of the workplace.

Women in logistics: Women's workwear and PPE
At iSB Group, we believe part of this responsibility includes providing workwear and PPE specifically designed for women's bodies.

Whenever we speak to new clients about their workwear and PPE, we always ask them how many female employees they currently have or are expecting to have in the near future, and encourage them to provide them with workwear and PPE that is tailored to their specific needs.

We're not talking about the stereotypical 'shrink it and pink it' philosophy of product design here – we take the same scientific, evidence-based approach to women's workwear and PPE that we do for products designed for men to wear and use.

Women's bodies tend to be a different shape to men's. Their feet are typically a different shape, and they usually walk differently too. Then there are cultural and situational aspects to consider, including maternity wear and modesty options.

In short, there is no such thing as 'unisex' when it comes to workwear and PPE.

Forcing women to wear ill-fitting workwear that was actually designed around a man's body is not only unfair, it can also be dangerous. Clothing that is too loose can become caught in machinery, while footwear that doesn't provide the proper support for the wearer's foot may fail to protect that person against accidental injury or lead to the onset of musculoskeletal conditions.

There is also a respect aspect to consider here. Only providing workwear and safety trainers designed for men doesn't exactly advertise a business as offering an inclusive working environment, a place where everyone is welcome regardless of gender, age, race, ethnicity or any other individual factor.

Women's workwear and PPE: Why it's time for change
Sadly, the range of workwear and PPE available for women is significantly smaller than that for men – but it is growing all the time, and the momentum for change is gathering.

As a workwear and PPE provider to the industry, we urge logistics businesses to consider their female employees as individuals in the same way they do their male employees, and provide them with the appropriate workplace equipment and uniform for their specific needs.

Only by providing them with appropriate choices can we show our female colleagues that there is a better way, demonstrate that they are valued equally to their male colleagues, and ultimately encourage workwear and PPE manufacturers to do more to increase the choice and availability open to women working in logistics.

To talk to our team about women's workwear and PPE, you can give us a call or drop us a message and we'll be happy to talk you through the available options.